On the final day of 1982-83 season there were two remarkable games which created headlines in their own contrasting way.
They concerned promotion and relegation and held implications for each losing side, which affected them for several years.
Saturday 14th May 1983
Derby County v Fulham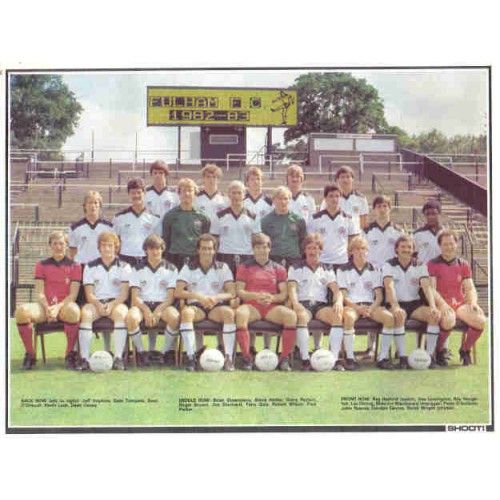 Fulham had not been seen in England's top division since 1968.
Between 1971-80 they had been in the Second Division, until relegation at the end of 1979-80 season saw them lose patience with manager Bobby Campbell, after 4 years.
His replacement was
Malcolm MacDonald
.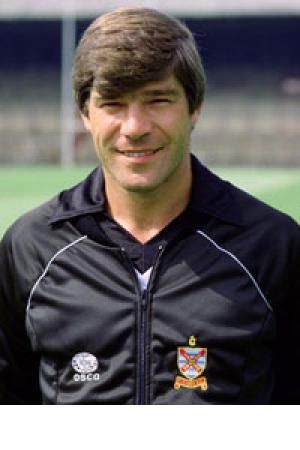 MacDonald was one of the most explosive centre-forwards in English football during the 70's.
He started his career at Fulham when Bobby Robson signed him, but he later went onto enjoy successful careers with Newcastle and Arsenal.
He still holds the record for scoring 5 goals in an international match for England (v Cyprus, 1975), and these performances earned him the nickname 'Supermac'.
Fulham was his first managerial appointment having recently finished his playing career.
Within two years MacDonald had returned them to Second Division football.
The following season saw Fulham blaze a trail in their bid for promotion back to the First Division.
Fulham were in financial difficulty and MacDonald made no secret of the fact he had assembled a competitive side without buying a player and had relied on youth players and free transfers.
Players such as
Ray Houghton
and
Paul Parker
began to make their mark under MacDonald.
They played alongside players such as
Gerry Peyton
(Republic of Ireland),
Gordon Davies, Jeff Hopkins
(both Wales),
Kevin Lock
and
Tony Gale
.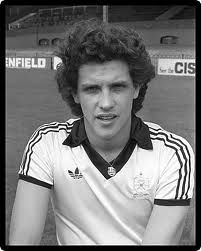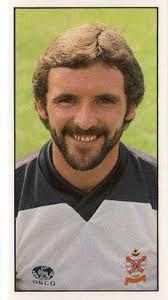 Tony Gale Gordon Davies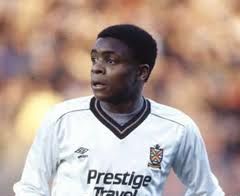 By the beginning of February Fulham were 3
rd
, 3pts behind leaders,
Wolves
.
They were also 11pts ahead of
Leicester City
in 4
th
place.
But Fulham then started to wobble.
They won just 5 of next 15 games and lost 3 in a row, including losing at home to Leicester, 0-1.
When they were beaten by Leicester, 0-1 through an Ian Wilson goal, the lead was down to just 2pts.
Leicester's 15 game run from February was 8 wins, 6 draws 1 defeat and unbeaten in 14.
Their strike-force was two young players who went onto win many honours in the game,
Gary Lineker
and
Alan Smith
.
Alan Smith Gary Lineker

Fulham would lose their next two matches, but Leicester could only draw theirs, which was enough to take them above The Cottagers on goal difference.
For Fulham's final home match against Carlisle, MacDonald took the unusual step of addressing the crowd before the game through the public address system.
It seemed the pressure beginning to tell on Fulham as MacDonald called the game 'the most important match in post-war history of Fulham Football Club'.
Fulham won 2-0.
Leicester also won at Oldham which set up a dramatic final day.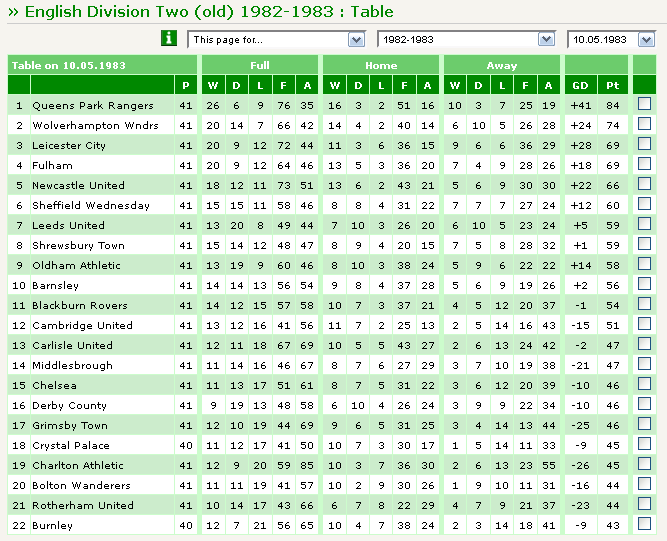 Leicester were at home to bottom club
Burnley
, and Fulham had to travel to
Derby
.
Derby County were under the guidance of
Peter Taylor
, who as assistant to Brian Clough, had guided the club to their first ever League Championship in 1972.
He was back at the club on his own, and trying to return them to their glory days.
He'd bought ex-Forest players,
Kenny Burns
and
Archie Gemmill
, along with installing
Roy McFarland
as his assistant.
McFarland was Derby's captain in their title-winning season a decade before.
Mid January Derby were 9pts from safety at the bottom of the table, then 15 games unbeaten helped them climb away from the relegation zone before 2 defeats had them worrying about who was below them.
They approached the final game of the season needing a win to guarantee their safety.
A draw, and they may stay up on goal difference, but were they prepared to take the chance?
For Burnley, they too needed a win.
They had managed to put a mini-revival together with 1 defeat in their previous 7 matches, but they were staring down the barrel.
They had to travel to Filbert Street and try and come away with a win, not easy given Leicester were on a run of losing just 1 in their last 12 home games.
The drama was centred purely at The Baseball Ground.
The atmosphere at ground could be considered 'poisonous'.
Clough used to use this to his advantage when he was manager of Derby, the fact that the proximity of the crowd could intimidate opponents.
Early on, Fulham striker Gordon Davies was bundled over in area but no penalty.
Davies didn't really protest.
At the other end, Mike Brolly headed Emson's cross and it looped onto crossbar and fell under Peyton's legs.
He could easily have gone in but it didn't.
During the first half, Fulham full-back Jeff Hopkins was booked for kicking Derby's Bobby Davison in the ribs as he goes up for a header.
This immediately incensed the home crowd.
Fulham went close again when Davies seemed to be pushed in the area but his header was deflected for a corner.
The only other chance of note was when Derby winger Paul Emson took on Hopkins down the left and his cross just went over the bar onto the roof of the net.
No goals in either game by half-time and at this stage it was Leicester who were going up.
Leicester had been relegated from the First Division back in 1978 when
Frank McLintock
was in charge of a team who scored just 26 goals and only won 5 games all season.
They bounced back up as Second Division Champions in 1980, only to go straight back down again.
Players such as former Man Utd midfielder,
Gerry Daly
, former Partick striker,
Jim Melrose, Kevin MacDonald
(future double winner with Liverpool),
Steve Lynex
and
Mark Wallington
were combining with Smith and Lineker to put them on the brink of promotion once again.
Early in second half, Derby midfielder,
Paul Hooks
has a swing at Hopkins and Kenny Burns also steps in.
It starts to get a bit nasty and the crowd is whipped up further.
Neither side is able to make the breakthrough until 15 minutes to go, Emson's right footed cross from the left found
Mike Brolly
on the far side of the area.
Brolly headed it back where he found Davison on penalty spot and he volleyed into roof of net.
Cue invasion of the pitch by the vociferous crowd.
The home fans started sing 'staying up'.
As the game was moving into the final 10 minutes police horses were seen on the touchline, which appeared to be a bid to stem any trouble.
Gradually fans climb over advertising boards & stand on touchline.
Right behind
Steve Cherry
in the Derby goal fans are several rows deep around the net, almost encroaching over the line onto the pitch.
Davies has a chance when he heads straight into Cherry's hands and fan walks on to pat the keeper on back.
In last couple of minutes, Houghton has a shot from outside the area and it is just tipped over by Cherry.
Again a pat on back from a fan.
Lewington went to take the corner and had to move fans out of way just so he could take the kick.
By now fans fill the touchline all the way round the pitch.
Terracing at one end of the ground is completely empty as fans are all around pitch.
It seemed that the police were helpless to be able to do anything about it, despite being in evidence in the ground.
In the final minutes the ball is out on the Fulham left wing.
Robert Wilson
runs down the wing, twists and turns Derby defender and then it suddenly kicked by one of the supporters.
Wilson stops, linesman flags but nothing is done about the fans.
Fulham players complain to the ref
who just decides to solve it all with a drop-ball.
The public address system is now calling for fans to retreat, but they're not listening.
Fulham keeper, Gerry Peyton then kicks ball down field and the ref blows for a free-kick, but the crowd are convinced it's the final whistle.
There is another invasion and the whole pitch is covered, but there is still time left to play.
Apparently, there were still another 78 seconds left.
The players struggle to get off pitch, as Derby fans are ecstatic their team has avoided relegation.
For the Fulham fans, news came through of the result in the other game and their hopes were dashed.
Leicester drew
0-0
with Burnley and had looked as if they'd confirmed promotion.
It also looked like relegation for a Burnley team who included a young
Lee Dixon
, just making his way in the game.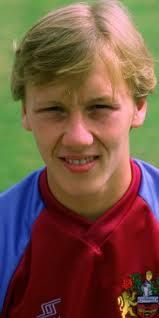 Lee Dixon
The controversy soon began.
Fulham made an official complaint and appealed for the game to be replayed.
Manager MacDonald was particularly angry.
After the game, he said the Derby chairman 'intimated he would be prepared to play a replay'.
He went onto say the referee had 'stated 90 minutes hadn't been completed'.
When asked why they didn't try and get the ref to play the extra minutes, he replied 'we couldn't field 11 players if we'd come back out, Jeff Hopkins was badly assaulted, his shirt ripped off his back and he had been punched.
The lad was in total shock'.
So by that evening it was unclear who was going up.
The FA announced they would have an enquiry to look into the events at The Baseball Ground.
Ironically, the result had been irrelevant after Leicester's draw and some even scoffed at the idea of them scoring 2 goals at the end of the game, but this was pre-1999 with Sheringham, Solskjaer etc.
What was certainly true is the impossible atmosphere the Fulham side had to endure in the final moments of the game and that some of the players were attacked as they left the pitch.
The following week the FA decided to uphold the Derby result and deny a replay, and so Leicester were promoted.
Fulham were unhappy about it and it's not certain whether MacDonald ever got over it.
The following season they finished mid-table and MacDonald resigned, the team was broken up and finished bottom of the table in 1986 and by 1994 they were in the 4
th
tier of English football.
It wouldn't be until 2001 when Fulham finally returned to England's top division.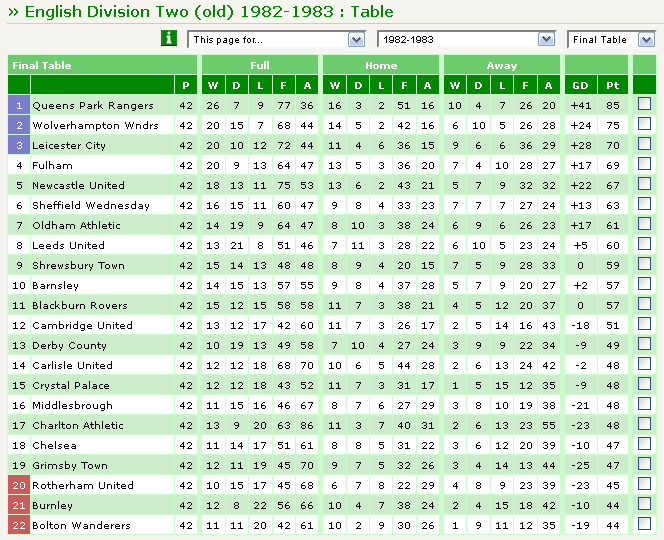 Leicester remained in the First Division until yet another relegation in 1987, but by then Smith had left for Arsenal and Lineker for Everton and then Barcelona, before returning to English football with Tottenham.
Looking back it seems inconceivable as to why the game wasn't stopped until the crowd returned to the stands.
Also with such a visible police presence it seems odd why they were completely powerless to stop the invading fans.
But these were days when football authorities were scared of groups of supporters intent on causing trouble.
There was still plenty more pain for English football grounds to endure before the collective strength would force that kind of behaviour outside