The recent League Cup ties have seen a shower of goals. 37 goals in the 8 matches. This got me thinking about the record for goals on a single day in English football, well the First Division, anyway.
Boxing Day 1963 and a full programme of league fixtures in the English First Division. Over 290,000 people watched the 10 games on offer and few ever forgot the entertainment. 1963 was the height of the 'cold war' as the world was struggling to come to terms with the assassination American President, John F Kennedy. The Christmas period was gripped by a cold snap but this didn't deter people attending the Boxing Day football.
66 goals were scored that day, a record which still stands today.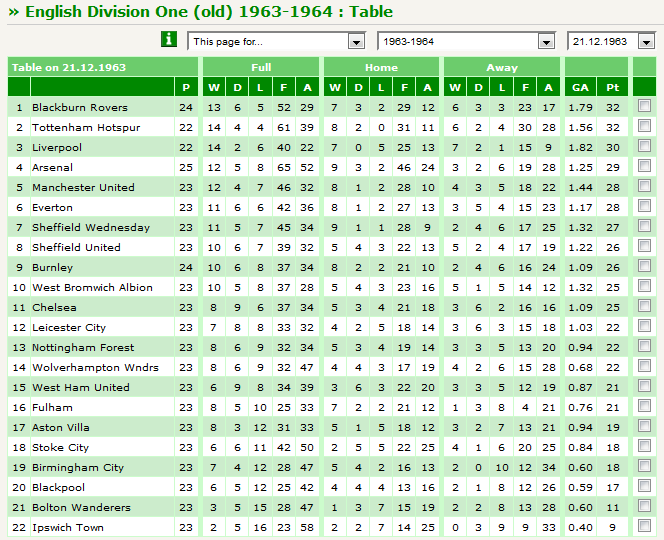 West Ham

2 – 8

Blackburn Rovers

Blackburn Rovers begun the day at the top of the table and they travelled to Upton Park to meet mid-table West Ham United. Turning out for the home side that day were Mssrs Moore, Hurst and Peters, who would all go on to earn World Cup winners medals 3 summers later. Blackburn were on an unbeaten run of 9 matches which had seen them overtake Liverpool at the top. Fred Pickering and Andy McEvoy both scored hat-tricks for Rovers as they thumped West Ham, 8-2.

West Brom

4 – 4

Tottenham

Tottenham started the day in 2nd place, behind Blackburn on goal average (a method used to separate teams on the same points, before goal difference was used). They travelled to the Hawthorns to meet West Brom, who sat in 10th place. A crowd of over 37,000 watched an 8-goal thriller as Jimmy Greaves grabbed two goals in a 4-4 draw. Cliff Jones and Bobby Smith also scored for Spurs with John Kaye, Clive Clarke, Micky Fudge and future England coach, Don Howe scoring for the Albion.

Liverpool

6 – 1

Stoke City

At Anfield in front of nearly 50,000, the biggest crowd of the day, 3rd place Liverpool take on Stoke City. Ian St. John opening the scoring, but John Ritchie equalised to leave the game level at half-time. In the second half, another future World Cup winner, Roger Hunt took over. He scored 2 goals soon after the re-start, Alf Arrowsmith also scored to put the home side 4-1 up barely 10 minutes into the second period. Hunt then rounded off the scoring with a further double to give him 4 for the day and Liverpool cruised to a 6-1 victory.

Fulham

10 – 1

Ipswich Town

The most remarkable result came at Craven Cottage. In 1962 Ipswich Town won the First Division title for their one and only time. They were managed by Alf Ramsey, but he had since moved onto manage England. Ipswich were now languishing at the bottom of the table with just 9pts from 23 matches. Boxing Day 1963 was certainly a day to forget for them. Fulham ran out 10-1 winners. Scottish international Graham Leggat scored 4 and Bobby Howfield scored 3. Bobby Robson and Alan Mullery completed the scoring. Leggat scored his hat-trick inside four minutes.

Burnley

6 – 1

Manchester United

Manchester United travelled to Turf Moor to meet Burnley. United were lying 5th just 4pts behind the leaders. Burnley were just 2pts back in 9th. A United side consisting of Bobby Charlton, Paddy Crerand and Bill Foulkes were thrashed 6-1. Andy Lochhead scored 4 for the Clarets with future United player, Willie Morgan, scoring the other two.

Blackpool

1 – 5

Chelsea

Blackpool were languishing in the bottom three and were at home to mid-table Chelsea. Terry Venables, who was to celebrate his 20th birthday 10 days later, opened the scoring. Barry Bridges grabbed a brace as the visitors ran out comfortable 5-1 winners.

Sheffield Wednesday

3 – 0

Bolton

Both Sheffield clubs were in the top half of the table, with Wednesday having dropped just 3pts in their 11 home games at that point. Second from bottom, Bolton, were the visitors to Hillsborough but they succumbed to 2 goals from Colin Dobson and another from Mark Pearson. A 3-0 win had kept Wednesday in touch with the leaders.

Nottingham Forest

3 – 3

Sheffield United

Sheffield United travelled to the City Ground to meet a Forest side sat in mid-table. Frank Wignall, Geoff Vowden and Ian Storey-Moore gave Forest a 3-0 lead and seemingly the points. But United hit back with 2 goals from Mick Jones and 1 from Len Allchurch. 18 year old Jones, would go onto be part of the great Leeds side of the late 60's and 70's.

Wolves

3 – 3

Aston Villa

With many of the grounds full for the Boxing Day matches, Molineux was less than half full for a Midlands clash with Aston Villa. Tony Hateley, Vic Crowe and Dave Poutney scored for Villa. Hateley was later signed by Bill Shankly for Liverpool a few years later.

Leicester

2 – 0

Everton

Defending champions, Everton, were lying in 6th just 4pts behind Blackburn. They travelled to Filbert Street to meet a Leicester side who were under-performing after their 4th place during Everton's title season. Ken Keyworth scored twice to give Leicester the points. That Leicester side included another future World Cup winner, Gordon Banks and also Frank McLintock, who later won the double with Arsenal in 1971.

Quite a day. 10 matches, 66 goals, 5 hat-tricks, 3 players scoring 4 goals each.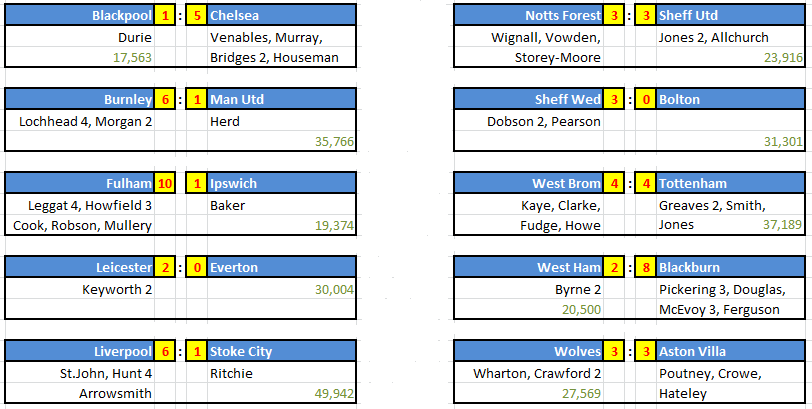 There were a couple of high-scoring games in the lower divisions too, that day. Manchester City beat Scunthorpe, 8-1. In Division Three Watford and Walsall played out an exciting encounter with Watford winning, 5-3.
Back then, the return fixtures were played two days later and threw up some equally surprising results. Only 37 goals were scored in the 10 fixtures but many teams managed to reverse heavy defeats from Boxing Day.
Having been thumped 2-8 by the leaders Blackburn, West Ham got their revenge with a 3-1 win. Bottom club Ipswich had experienced the worst treatment losing 1-10 at Fulham. But when they had the return at Portman Road, Ipswich prevailed 4-2. Manchester United had been humbled 1-6 at Burnley, but turned things around to win 5-1 two days later in a game which saw George Best score his first goal for United. Bolton had been easily beaten 0-3 by Sheffield Wednesday but then returned the compliment with a 3-0 win.
Liverpool went onto win the League with Bill Shankly's first title. It was their 6th League title but their first since 1947. They won the League by 4pts from Manchester United, who had their best league finish since 1959. Everton, champions 12 months earlier, finished 3rd. In those days just 2 clubs were relegated and this time it was Bolton and Ipswich who experienced the drop. For Ipswich this was a sorry episode for a club who had been League champions just 2 seasons earlier. They'd won the League under the management of Alf Ramsey, but he was now England manager and they'd brought in former Newcastle goalscoring legend, Jackie Milburn was his replacement and the whole episode was a disaster. Bottom of the table, conceding 121 goals and winning just 9 matches in a 42-game season, they were banished the English football's second tier. Milburn then left, never to return to management, and it took 4 years for the club to return to the First Division.