29 goals were scored in the 8 Premier League games today. Not bad, but nowhere near the record day for goals in England's top division.
On the final Saturday of the inaugural Premier League season, 1992/93, 47 goals were scored in 9 matches.
The date is 8th May 1993 and all the issues of relegation and title have been decided, except one.
Manchester United had already been crowned champions, their first title for 26 years. Middlesbrough and Nottingham Forest had already been relegated, prompting Forest manager, Brian Clough, to finally call it a day. The last relegation spot was between
Oldham Athletic
and
Crystal Palace
. Palace were 3pts and 2 goals better off than Oldham, but they had to travel to Highbury to meet
Arsenal
, who they hadn't beaten since the days of Terry Venables, whereas Oldham were at home to
Southampton
, a side they hadn't beaten in a league match since 1976.
Oldham had come up in 1991. They finished 9pts clear of the drop in their first season, but this time they were staring The Championship right in the face. Palace had come up in 1989, along with Chelsea and Manchester City. They had finished mid-table each season since, but with Sheffield United putting in a late spurt, Palace had found themselves desperately clinging onto Premiership life.
Despite a 3pt cushion, Palace couldn't really afford to lose. A 1 goal defeat for them and a 1 goal win for Oldham would see both on a goal difference of -11. Oldham had scored 9 goals more, so they would stay up. Obviously, if Oldham only drew or lost, then Palace were safe.
Things started badly for Palace as old-boy,
Ian Wright
, put Arsenal in front after 9 minutes. 29 minutes in and
Neil Pointon
put Oldham in front and now Palace were in trouble.
But 5 minutes later,
Matt Le Tissier
equalised for Southampton and things swung back Palace's way. Right on half-time, though,
Ian Olney
put Oldham back in front and so at the halfway stage, Oldham were looking at safety, but a goal in either game could easily change things.
10 minutes after the break and Oldham striker,
Andy Ritchie
, gave the home side a precious 2-goal advantage as they now lead 3-1. The Boundary Park crowd were going mad barely 10 minutes later when
Gunnar Halle
made it 4-1 after 64 minutes.
Still Palace couldn't get the equaliser they needed, but
Matt Le Tissier
got a goal back for Southampton and there was hope,
Coming into the final 10 minutes and Palace still just needed a goal to stay up, unless Southampton could score two.
82 minutes in and
Paul Dickov
scored for Arsenal. They now lead 2-0 and Palace needed help. A minute later and
Matt Le Tissier
completed his hat-trick and now Oldham fans were begging for the final whistle. There would be one more goal in these two matches, and agonisingly for Palace it was
Kevin Campbell
who scored Arsenal's third and so Palace were down. Oldham couldn't believe their fortune. They'd won their last 3 matches to secure their Premiership status, including wins over two top 6 sides, Aston Villa and Liverpool. For Palace, they had picked up just 5pts in their final 5 games and that had ultimately lead to their downfall.
Oldham weren't so lucky the following season, going down with Sheffield United and Swindon but they had contributed to some real final day drama, although the following season's events were to overtake this one in the blood pressure stakes.
It was a remarkable day for goals with 6 of the 9 games producing at least 6 goals.
Liverpool
were the day's top scorers hitting
Tottenham
for 6.
Everton
grabbed 5 at
Manchester City
with
Sheffield United
joining Oldham on 4, against
Chelsea
.
8th May 1993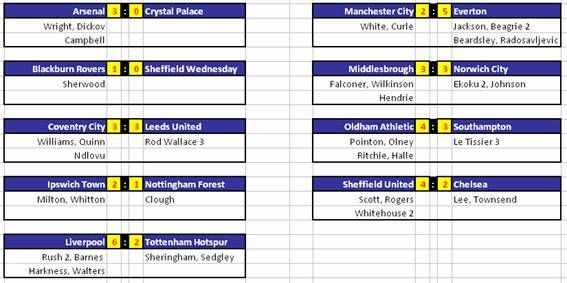 17th November 2012