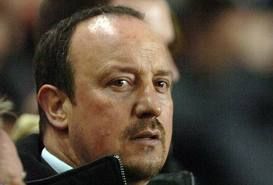 He's back. The man who exposed the dubious link between The FA and Manchester United. The man who delivered Liverpool's 5th European Cup win. The man who took Liverpool as close to a league title as they have ever got since 1990. The man who never seemed to be given enough money for the players he wanted.
For many Liverpool fans, Benitez is a tactical genius who brought a touch of Iberian class to Anfield and attracted some very good players. For others, he had his time, spent most of it complaining about everything and anything and, in amongst the stars, bought some fairly poor players.
Benitez first came to prominence when he won La Liga with Valencia twice in three years. Since 2000 those two years are the only occasions a club other than Barcelona or Real Madrid have been crowned champions in Spain.
Ultimately, Benitez left the Mestalla, complaining of not getting the players he wanted. Apparently, he gave the board a list of the players he required at the start of the season, but instead of the pacey full-back or box-to-box midfield player they went out and bought a lump-it-anywhere centre-back and someone to make the tea.
Liverpool had finally had enough of Gerard Houllier, whose illusion of actually making a difference to the players he had at his disposal finally unravelled, and Benitez was far and away the ideal match. In 35 years of watching Liverpool, some of the finest players I have ever seen at Anfield, appeared during the Benitez-period.
Pepe Reina, Xabi Alonso, Fernando Torres and Javier Mascherano are some of the best players to have ever graced the Anfield turf. Arguably they would never have joined the club if not for Benitez. They were the sort of talent clubs like Manchester United and Arsenal were desperate for, and kept Liverpool competing in all competitions.
Then came Istanbul.
Benitez built a reputation for being tactically astute and people like Mourinho were continually tested. But he could also get it wrong. Remember Burnley in the FA Cup?
Some of his signings were a little like that too. Fernando Morientes had won 2 Spanish titles and 3 Champions League titles with Real Madrid and was another player who only joined the club due to Benitez. But he flopped, rarely reproducing his best form. Other players like Antonio Nunez, the make-weight in the Michael Owen deal, Andrea Dossena, Bolo Zenden just weren't good enough.
Now, plenty of managers sign players who don't reach the potential they showed at previous clubs and Jermaine Pennant and Mark Gonzalez were good examples of this. Liverpool have certainly experienced that before and since, and so Benitez can hardly take all the blame.
But Benitez left Liverpool with some really good players such as Daniel Agger, Glen Johnson, Lucas and Dirk Kuyt. In the end, though, his handling of Xabi Alonso was something few can forgive him for. Allegedly Benitez had tried to sell the Spaniard in 2009 in an attempt to persuade Aston Villa to part with Gareth Barry. Twelve months later Alonso was off to Real Madrid, and who could blame him. To replace him Benitez paid £17m for Alberto Aquilani who went into the same box as Pennant and Gonzalez. Performances suffered and the team was being broken up. Mascherano was soon off, although he waited till Benitez left first. In the end it just reached a sorry end.
That is the main reason why many Liverpool fans do not want Benitez back at Anfield. Don't get me wrong, I enjoyed his time at Anfield and wish no ill on the man, but 'that ship has sailed' and it was time we all moved on. With the ability of hindsight, you could argue Liverpool have been declining from 2008-2009 onwards, during that title-chasing season.
In 2009 Liverpool's points total would've been enough to win the title in many previous Premier League seasons, but they were overhauled by a more experienced and determined Manchester United side. But Liverpool should've pushed on from there, yet the cracks were beginning to appear even during that season, such as the Robbie Keane saga.
And so it is all that which shrouds the mind where Benitez is concerned. Sure, we'd love the memories of two Champions League Finals, an FA Cup and a UEFA Super Cup again, but we'd be picking up from constant protestations of not being backed by the owners.
At Inter Milan things were much the same, and so his decision to take up the Chelsea job is a little odd. He will never get on with Abramovich. He will organise the team properly, though, something I was always dubious about Di Matteo's ability to do.
This failure to get on with owners would be the main reason he'd never get on with the current purse-string holders at Liverpool. They clearly want to run the club like they run their baseball team and having a man like Brendan Rodgers in place suits them just fine. Rodgers is currently constructing a project and Liverpool is his ticket to the big time. He's not going anywhere until he can see this project bear fruit. FSG are not going to sanction big money spent on unproven talent, if it disturbs the financial equilibrium they are trying to create at the club. This would be in direct contradiction to what Benitez would want.
But for Benitez to return to Liverpool, he would be picking up where he left off and that's not a pleasant thought. It would be like Glen Hoddle back as manager of England. England played some good football under Hoddle, and were very hard to beat, yet what he would be resuming from was the whole Eileen Drewery affair, disabled people, Gascoigne and his treatment of young stars such as Beckham and Owen. How would Arsenal fans feel about having George Graham back? They won two League titles under him and could certainly do with his abilty to organise a defence, but do they really want to return to that? When Howard Kendall returned to Everton, blues fans expected a resumption of their mid-80's dominance but it never materialised.
I really hope it works out for Benitez at Chelsea, but the current state of the club shows they are in need of re-building. Mata, Hazard and Ramires are evidence this is in the process of working out and Benitez could certainly be the type of manager to really develop their game. But can he attract the sort of improvements they need, if he is only a stop-gap? Perhaps that won't matter, as Chelsea proved at the end of last season what they are capable of through sheer team spirit. Unfortunately, Di Matteo was wholly ill-equipped with the tactical nous required once that spirit had dissipated.
It will certainly be interesting to see Benitez back, alongside Ferguson, Moyes and Allardyce again.