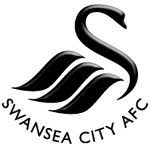 After their play-off win over Reading in 2011, taking them into the top flight for the first time since the early 80's, I got to thinking about those times and thought I'd share the experiences.
I was interested in Swansea's progress back at the end of the 70's as John Toshack, an old Anfield favourite, had taken over there after leaving Liverpool.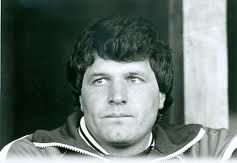 Toshack took over as Player-Manager in March 1978.
After helping Liverpool to the League and European Cup Double in 1977, the emergence of players like Kenny Dalglish, David Johnson and David Fairclough, coupled with injuries, meant that Toshack was increasingly sidelined by Bob Paisley.
So he moved 'back home', having begun his career at Cardiff.
At the time, Swansea were in Division Four (League Two).
They won promotion that year, along with Watford.
These two then shared promotion again the following year, from Division Three.
After finishing 12
th
in Division Two, the Swans achieved promotion to the First Division the next season, finishing 3
rd
behind West Ham and Notts County (no play-offs back then).

Toshack had compiled a team made up of promising youngsters and experienced 'old pros'.
He'd made some 'canny' signings, concentrating on players who were desperate to either, make their name, or go out with one final hurrah.
Alan Curtis
, an ex-Leeds United player, proved to be an inspired buy.
He fitted the mold of many a classy player in the 70's when he would play as a midfielder-cum-striker.
He bought two Yugoslav internationals, in an era when foreign players were as rare as David N'Gog goals.
Ante Rajkovic and Dzemal Hadziabdic, gave John Motson extra homework to do.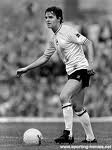 Hadziabdic


He did well to plunder the Liverpool squad to bring in players who were surplus to requirements at Anfield, but who could do a job at The Vetch Field.
Ray Kennedy, Ian Callaghan
and
Tommy Smith
, all of whom had also played in the 'Double' side of '77. Callaghan and Smith joined Swansea with Toshack in 1978, with Kennedy joining during the 81-82 season.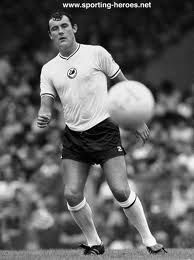 Kennedy
Unfortunately, Swans fans never saw Kennedy at this best as the onset of Parkinson's Disease started to kick-in once he joined them.
Colin Irwin
became the club's record signing in 1981.
Irwin had never been a regular at Anfield and Alan Hansen's emergence meant he needed to seek employment elsewhere. But it was the signing
Bob Latchford
from Everton, that worked out best in the opening day of the 1981-82 season.
Latchford had finished as First Division top scorer in 1977-78, with 30 goals.
Latchford
He earned the first of 12 England caps that year when Ron Greenwood selected him for a crucial World Cup qualifier against Italy.
His last cap was in 1979, and as his England career had come to an end, so did his Everton career.
Toshack considered him an ideal man for his First Division newbies.
Latchford was one of two Everton signings during the summer of '81, as goalkeeper
Dai Davies
joined too.
Two other men who would play an important role during that season were
Robbie
and
Leighton James
.
Leighton had spent two spells at Burnley, as well as First Division appearances at Derby and QPR, and by the time he arrived at The Vetch, he was approaching 30 and had been a Welsh international for almost 10 years.
For Robbie, Swansea was his first professional club, having joined in 1973.
He had performed well during their rise to the top.
This season was his pinnacle, as he finished top scorer with 14 goals.
Leighton James
Robbie James
Along with these were players like Tommy Craig, who'd had plenty of experience at Aston Villa, Newcastle and Sheffield Wednesday and John Mahoney (Middlesbro and Stoke City), and they were the elder statesmen of the club.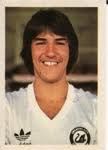 Jeremy Charles
Decent young hopefuls were players like
Jeremy Charles, Dean Saunders
(1982 was his first season in professional football) and
Ian Walsh
, who had been part of the Crystal Palace 'Team of the Eighties'.
29th August 1981
This was the opening day of the season and newly promoted Swansea were at home to
Leeds United
.
23,489 packed into Swansea's home ground of Vetch Field to watch their heroes play against a side containing international players such as Trevor Cherry, Eddie and Frank Gray, Peter Barnes, Derek Parlane and Arthur Graham.
The day began well for the home side as Jeremy Charles gave them the lead, before Parlane equalised for Leeds.
1-1 at half-time and then the Swans went mad in the 2
nd
half, as Latchford grabbed a hat-trick and then a good goal from Alan Curtis.
See for yourself in this video
Swansea then travelled to
Brighton
, who'd just managed to stave off relegation the previous season, and won
2-1
.
So two games in and Swansea were top of the league!
They soon came down to earth when Ron Atkinson's
West Brom
hammered them
4-1
.
A
3-2
win at home over fellow newboys
Notts County
, was followed by a
0-1
defeat at Old Trafford, but it was Swansea's home form that was most impressive.
They played host to
Tottenham
and
Sunderland
and won both games,
2-1
and
2-0
.
An October trip to Anfield saw them gain a creditable
2-2
draw.
This was a particularly poignant match as 4 days earlier had seen the death of Bill Shankly.
Swansea took a shock 2-0 lead before
Liverpool
needed 2 penalties to level the game, although one of them was distinctly dubious.
Swansea were sitting 3rd in the table, 1pt behind leaders Ipswich and Arsenal were the next visitors to The Vetch and they succumbed to a 2-0 defeat.
The Swans then beat
Stoke
away,
2-1
.
A trip to Highfield Road saw them lose
1-3
to
Coventry
, before a
0-0
draw at home to
Wolves
became their first home match where they failed to score.
Still lying 3
rd
, November saw them visit leaders
Ipswich
.
This proved to be one of their finest performances as they ran out
3-2
winners.
This was followed by a disappointing
0-4
defeat at Maine Road against
Man City
.
This began an inconsistent period of the Swans.
They picked up 5pts from 8 games (2pts for a win), including their first home defeat to
Nottingham Forest
.
This run also included the return trip to
Leeds
who gained revenge for their opening day spanking, as they won
2-0
.
Then came the visit of Manchester United to The Vetch.
Here is the video for this game.
The Swans were now in 7th, 7pts behind leaders Ipswich.
At the beginning of February,
Liverpool
were the visitors and with several ex-Liverpool players in the squad, Swansea were keen to do well.
They did better than they might have expected, picking up a
2-0
win.
This began a run of 6 games without conceding as they did the double over
Arsenal
, winning
2-0
at Highbury.
This run had seen them climb back up to 2
nd
in the table after 30 matches and the end of March saw them welcome leaders Ipswich to the Vetch.
This time
Ipswich
got their revenge and won
2-1
.
They then lost at home to
West Ham,
0-1
, 3 days later.
This was then followed by wins over
West Brom
(
3-1
),
Southampton
(
1-0
) and
Man City
(
2-0
), before 3 successive defeats to
Birmingham
(
1-2
),
Everton
(
1-3
) and
Tottenham
(
1-2
) saw them slip to 5
th
in the table.
They seem to run out of steam as they picked up just 2pts from their final 6 matches, although the win was a
2-0
one at
Forest
.
Swansea finished 6
th
in the end and this was very impressive performance for a side in the top flight for the first time in their history.
They will forever remember wins over Liverpool, the eventual Champions, Nottingham Forest, the European Cup holders, Aston Villa, who would go on to win the European Cup that year, Manchester United, who finished 3
rd
and Ipswich, who finished 2
nd
and won the UEFA Cup that season.
The 1982-83 season saw Swansea play in Europe as a result of their Welsh Cup win.
How it's possible for a club to play in the English First Division and also compete in both English and Welsh Cups is beyond me, but who am I to question?
Swansea saw off
Sporting Braga
in the qualifying round,
3-1
on aggregate and then came up against Maltese club,
Sliema Wanderers
.
The first leg was at home and The Swans scored a record,
12-0
.
They thumped a further 5 goals in the 2
nd
leg before going out to
Paris Saint-Germain
in the next round.
Swansea began the league season with 2 wins and a draw from their opening fixtures, before they lost the next four, including
1-4
at
Stoke
and
0-3
at home to
Liverpool
.
The magic seemed to be slipping although they beat
Tottenham
at home
2-0
.
They were now shipping goals and that's never a good sign, as
Everton
came to the Vetch and won
3-0
.
By the end of November, defeats to
Arsenal
(
1-2
) and
Ipswich
(
1-3
) saw The Swans in 14
th
.
Their
2-0
win over newly promoted
Luton
at the beginning of December proved the last time they win till midway through January when they beat
Notts County
.
During that time
Arsenal
did the double over them.
That win over Notts County was their only win during a 13-game period as both
Watford
and
Brighton
came to the Vetch and won.
By the time the Swans finally won at home to
Man City,
4-1
in March, they were 4
th
from bottom and out of the relegation zone only on goal difference.
They remained unbeaten for the next 3 matches before
West Ham
came to Wales and walked away with a
5-1
win.
That result seemed to provide some weird sort of symmetry considering Swansea's win over Leeds at the beginning of the previous season.
Swansea had been handed an almost impossible run-in, as 4 of their final 7 matches were against teams in the top 5, with their final 3 games against sides in the top 6.
They picked up draws against
Stoke
(
1-1
) and
Ipswich
(
1-1
) at home, and then beat
Aston Villa
2-1
at The Vetch.
But by the time they travelled to Old Trafford, they were bottom of the table and relegated.
They lost that game 1-2 and then were beaten at home
0-3
by
Nottingham Forest
on the final day.
And then the dream was over.
A bit reminiscent of Ipswich in 2001 and 2002, Reading in 2007 and 2008, as an impressive first season in the top division was followed by a disappointing 2
nd
season and eventual relegation.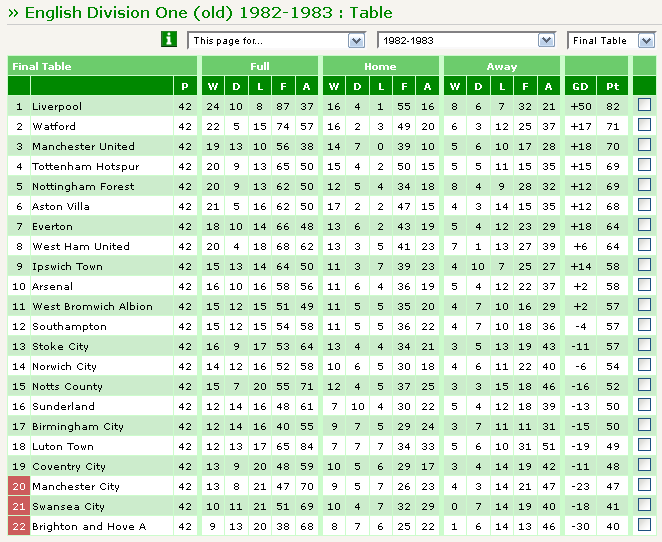 It has taken a long time for the 2
nd
coming, and Swansea have had to endure a winding-up order in 1985 and finally relegation back to where they came from, Division Four, in 1986.
It had been a rollercoaster ride few will ever forget.
Can they make it more permanent this time round?