On the final day of 1982-83 season there were two remarkable games which created headlines in their own contrasting way.
They concerned promotion and relegation and held implications for each losing side, which affected them for several years.
This is the second part in this series
Saturday 14th May 1983
Manchester City v Luton Town
Final day of the season for First Division clubs and we had, what amounted to, a play-off for survival at the bottom.
It was a David v Goliath clash as little Luton Town travelled to Manchester City.
City had been First Division champions in 1968 and runners-up in 1977.
They had won the FA Cup in 1969 and lost in a replay in 1981, they'd won 2 League Cups in 1970 and 1976, losing in a final too in 1974.
Their one European trophy was the Cup Winners' Cup in 1970 and yet here they were on the brink of Second Division football.
They were about to trade in the lush green pitches of Anfield, Old Trafford and Highbury for wet Tuesday night trips to Grimsby, Carlisle and Shrewsbury.
None of which was pleasing chairman,
Peter Swales
.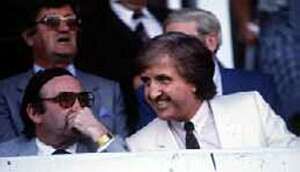 City had been through a fair amount of upheaval since the days of Joe Mercer and Malcolm Allison in the late '60's.
In 1981 he brought in
John Bond
from Norwich to turn things around after Allison's fateful 2
nd
spell at the club.
Bond's influence brought immediate results and the Cup Final side of 1981 looked to be set for bigger and better things.
But Bond fell out with Swales in February and they appointed ex-Bournemouth player-manager,
John Benson
.
This was Benson's first full-time post and City had managed just 3 wins in the 16 games he was in charge before the visit of Luton.
When Bond left City were 14th, 11pts off 2nd place but also 10pts above safety
Benson's first game in charge was a 2-2 draw at home to Tottenham, who had beaten them in the famous FA Cup replay in 1981.
On the same day Luton were beaten at home, 1-3 by runaway leaders, Liverpool.
Luton had come a long way from the heady days of the previous September when they arrived at Anfield and for the first 45 minutes seemed to run their illustrious opponents, ragged.
They drew 3-3 that day, and it was further evidence they were one of the most exciting sides in the Division.
Their first 9 games saw them score 24 goals and concede 21.
If it was goals you were after then go and watch Luton.
This cavalier approach threatened to undermine the hard work they had put in to reach England's top Division again.
Everton put 5 past them in both meetings, Arsenal, Coventry and also local rivals Watford all scored at least 4 times.
But they had pulled off a famous1-0 win at Nottingham Forest, European Champions just 3 years previous, in March but then lost their next 4, including the ignominious defeat at Watford, to find themselves in the bottom three.
A run of 6 games unbeaten had seen them rise to 16
th
but then Everton and Manchester United thrashed them and they were hanging on for their lives.
Luton were last in the First Division in 1975 when they had just one season in the big time.
Their final match of that season was a 1-1 draw with Manchester City, but the point was not enough to keep them up.
The goalscorer for City that day was
Dennis Tueart
, who was still in the City side 8 years later.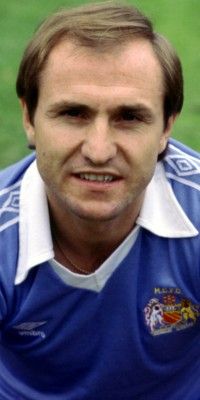 Lining up against him on this day was future City manager,
Brian Horton
, who was in charge of the club between 1993-1995.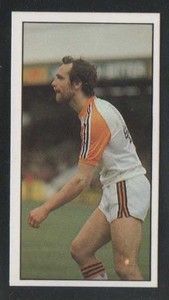 The first meeting this season between these two was at Kenilworth Road in December, and goals from Paul Walsh, Brian Stein and an own goal from Asa Hartford, gave Luton a 3-1 win.
At that stage Luton were 19
th
and Manchester City were up in 10
th
.
Goals had been City's problem, scoring just 11 in the 16 games since Benson took over, conceding 29.
Luton's manager David Pleat gambled on his top goalscorer
Brian Stein
, who had been troubled with a foot injury which had seen him start just one match in the previous 5 months.
His 15 goals that season were proving vital in keeping them still in the fight for safety.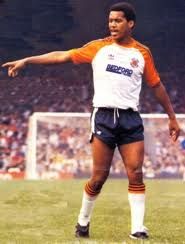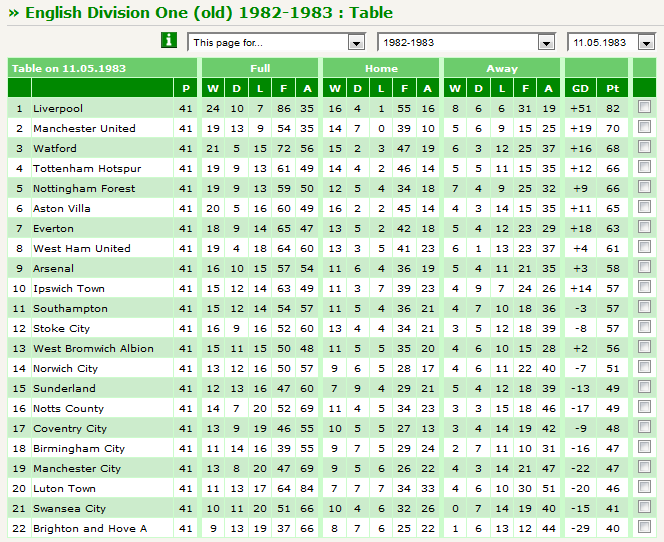 The match kicked off with both teams visibly nervy. Former Chelsea striker, Trevor Aylott, was busy for Luton causing the home defence some concern.
Towards end of first half, a long ball from City right back, Ray Ranson in his own half, went beyond the Luton defence for Kevin Reeves to run onto but he dragged shot wide of far post.
The first half had very few real clear-cut chances and ended all very even at 0-0.
That would be enough for City but not Luton.
The second half began with Luton on attack forcing Kevin Bond to have a nervy moment as his touch only just took ball out for corner.
The resultant corner saw Paul Walsh force a good save from Williams.
Luton were beginning to get a grip in the game and Pleat decided to make a substitution.
Raddy Antic, a 35-year old Yugoslav had joined Luton in 1980 from Real Zaragoza and played an important part in the club's Second Division Championship win in 1982.
His form had been patchy during the season fuelling speculation of a transfer.
He was brought on to replace Wayne Turner in midfield.
City tried to create chances of their own as they put Luton keeper, Tony Godden, under pressure.
Godden missed a cross and the ball was cleared, but when it came back in Tueart couldn't convert a chance before Godden bundled it out for a corner.
Luton moved the ball from left to right in midfield, to find Stephens as the overlap.
His cross-cum-shot into the area was pushed out low down by Williams and it rebounded back off Nicky Reid and onto the bar.
A nervous moment for the home side who were starting to make mistakes.
The game was getting really frantic as both sides realised time was running out.
Asa Hartford showed some trickery beating several players, before back heeling to Power whose cross Dennis Tueart couldn't convert.
Then down at the other end there was a desperate scram in the City area as the players now seemed as nervous as the fans.
Luton began to push up more, with just 5 minutes to go.
Brian Stein had the ball wide on the right and his initial cross was easily blocked by Caton, but it went back to Stein and gave his second cross more air, right into the 6-yard box.
Rather than leave the clearance to two of his defenders, Williams elected to come and punch the ball which he managed but his momentum caused him to fall to the ground. He got enough of a punch to take the ball to the edge of the area. Who does the ball drop to?
Raddy Antic.
He hits the ball on the volley and with Williams not able to get up quick enough, City have two defenders on the line but they are helpless to stop the ball going into the net and Luton have a priceless goal late in the game. The view from behind the goal shows Williams just get a hand to the shot as he tries to get up, but that is enough to take the shot past the 2 City defenders.
The place goes mad.
Pleat is off his bench to try and try and calm his players telling them to hold on.
City looked stunned as it hits them they could be going down.
Benson makes a substitution bringing on striker, Steve Kinsey for Baker.
City are frantic now and must score or else its relegation.
Hartford tries to create an opening but his pass is grabbed by Godden.
Godden is again called into action to deal with a cross which he can only push out for a corner.
He misses his punch from the resultant corner and the ball drops for Kinsey who shoots straight at a crowd of players.
But that was City's final chance.
The final whistle blew and Luton had survived, cue the most ridiculous skip onto a pitch from anyone, especially a manager. David Pleat skips onto the pitch to celebrate with his players, desperately trying to do the button up on his suit which only adds to the comedic factor.
But the joy on his face could not be hidden and, in an era before play-offs this was as dramatic a match as you could hope to witness in League football.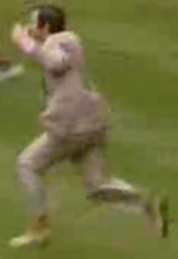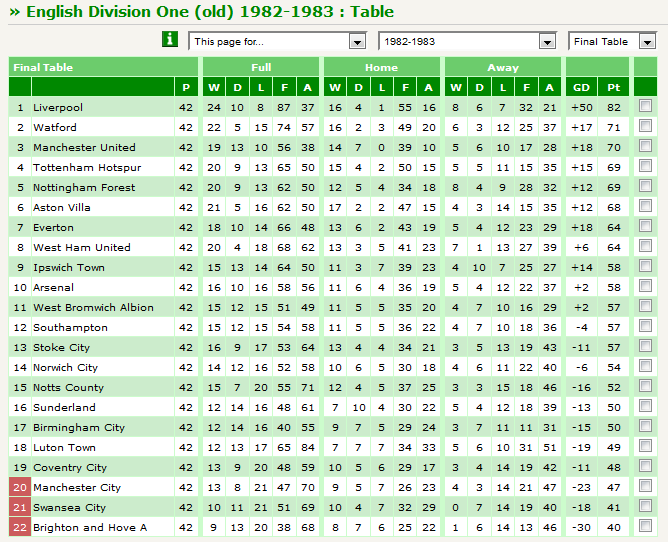 What happened next?
City spent the next six years yo-yoing from First Division to the Second and back again.
They spent two years in the Second after this relegation to go back up on goal difference in 1985, only to return two years later.
They finished 2
nd
to Chelsea in 1989 to return to the top where they would remain until suffering another relegation in 1996.
The trip back that time, would be much longer and more painful than before.
For Luton they were able to build on their fortune, although for a few years they seemed to have a perennial fight against the drop, before 1986, 1987 and 1988 saw them record top 10 finishes.
They won the League Cup in 1988, beating overwhelming favourites Arsenal, losing to Nottingham Forest in the final the following season.
But what followed was another 3 seasons finishing perilously close to the drop before finally succumbing in 1992.
Within 10 years Luton were back down to the third tier of English football.
A mini-revival saw them return to the Championship but then financial turmoil has seen them now competing in the Conference.
David Pleat took Luton to the FA Cup Semi-Finals in 1985 and the Quarter-Finals the season after, before leaving the club to take over at Tottenham and overseeing one of their most attacking sides for many years.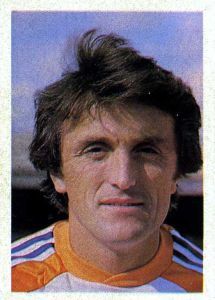 Of course the day's hero was Antic.
He went onto manage several clubs, mainly in Spain including both Real Madrid and Barcelona, as well as Atletico Madrid, Real Zaragoza and Real Oviedo.
More recently he was manager of the Serbian national team.