Friday 11th May 1979, Crystal Palace beat Burnley
2-0
at Selhurst Park in front of a record crowd of 51,482 fans.

That secured promotion to the First Division (now the Premier League).

They only needed a point to confirm promotion, but the win ensured they would end up as Second Division Champions.
This prompted the prophesy from ex-footballer-turned-pundit, Jimmy Greaves to label them 'The Team of the 80's'.
This may be the first time you've heard of Crystal Palace being the Team of the 80's and there's a reason for that, as things didn't really turn out as anticipated.
It had been an impressive journey and Eagles fans had much to confident of.

Much of their positivity was down to an astute youth policy which was beginning to take shape.
Palace were managed by Terry Venables.

Venables had joined the club as a player in 1974 and took the opportunity to move into coaching under then manager, Malcolm Allison.
In
1975/76
they were a Third Division club but had reached the FA Cup Semi-Finals, only to lose to eventual winners, Southampton.

That defeat seemed to knock them off their stride in their attempt to gain promotion too, as they won just 1 of their 7 league matches following the Semi-Final to fall from 2nd to 5th.

Allison left and Venables took over.

The FA Cup wasn't the only aspect of notoriety they had earned as Peter Taylor was selected to play for England, despite playing in the Third Division.
1976-77
was an important season for the club.

They gained promotion to the Second Division, beating Rotherham on goal difference, but also won the FA Youth Cup, beating Everton, 1-0 after 2 legs.

Palace's side included 4 players who would form the cornerstone to their success over the coming years – Kenny Sansom, Terry Fenwick, Billy Gilbert and Jerry Murphy.

Sansom went onto become the most capped left back for England, until Ashley Cole came along.

Fenwick was a tough tackling centre-back who played in and FA Cup Final and also in the World Cup for England.

Gilbert played over 200 times for Palace and so did Murphy, who was a cultured passing midfield player.

Up front they relied on the goals of Ian Walsh who was one of the youngest in the squad.

Palace's route to the Final had been entertaining, especially given their 8-0 win over Spurs in the Semi-Finals.

Terry Fenwick scored the winning goal in the Final against an Everton side who included future stars as Kevin Ratcliffe, Steve McMahon and Joe McBride.
1977-78
Palace finished 9th in the Second Division, although that would appear they were within a shout of promotion at one point, the truth is they were only 4pts ahead of Blackpool who were relegated.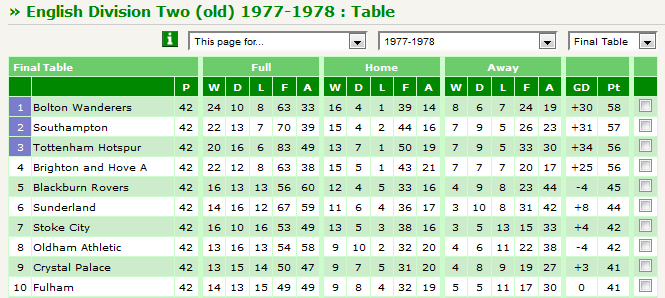 In the Youth Cup, they became only the third club to retain the trophy.

By this time 5 of the squad were regular members of the first team squad.

Players such as Peter Nicholas and Vince Hilaire were really starting to make an impression, and Steve Lovell and Steve MacKenzie were also showing real promise.

Hilaire, a pacy winger, had made his debut in the first team as a 17 year old against Lincoln in March 1977.

He quickly became a crowd favourite, although being a black player meant he also copped much of the racist abuse around at the time.

In the Final they were up against Aston Villa in the Final and once again it was Fenwick who scored the winning goal.

That Villa side contained 4 players who would play a part in the club's League and European Cup success in 1981 and 1982, Gary Shaw, Colin Gibson, Gary Williams and Brendan Ormsby.
Palace's achievement at youth level was now to be ranked alongside the Manchester United Busby Babes side of the mid-50's and Chelsea in 1960 and 1961 which went onto League Cup and FA Cup over the next ten years.
1978-79
had been a season where things really started to click into place.

Palace topped the table at Christmas but were beaten at home by Bristol Rovers on Boxing Day.

They then drew the next 5 matches, before improving things with 4 wins in the next 6 games.

They were on a run of 12 games unbeaten before losing at Newcastle at the beginning of April, but not to be deterred, they put on one final burst to win 5 of their last 7 matches to take the title.
Palace's defence was the key to their success, conceding just 24 goals in their 42 matches, including just 2 in their final 7 games.

Venables had signed John Burridge from Aston Villa and he proved to be an outstanding purchase.

Burridge had won a League Cup winners medal with Villa in 1975, and at 27 was one of the oldest players in the team and so brought some vital experience.

It's fair to say Palace may have remained in the Second Division if they hadn't signed 'Budgie'.
Burridge was one of 2 players Venables signed who added some much needed experience to his young side.

Steve Kember.

Born in Croydon, Kember had begun his career at Palace as an apprentice spending 6 years there including a spell as club captain.

He moved to Chelsea in 1971 and then onto Leicester, before Venables brought him back to Selhurst Park.
After the title was secured against Burnley when Ian Walsh and Dave Swindlehurst scored, Venables set about building his squad to cope with the rigours of First Division football.
In the summer Venables made two shrewd moves in the transfer market.

Gerry Francis was captain of a Queen's Park Rangers side who came within a point of winning the League title in 1976.

He also captained England 8 times before joining Palace in July 1979 for £465,000.
Mike Flanagan
had spent 8 seasons at Charlton forging a dangerous strike partnership with Derek Hales.

He'd spent the summer in the NASL and was voted Most Valuable Player (MVP) in a league which included the likes of Rodney Marsh, George Best, Franz Beckenbauer, Trevor Francis.

Venables signed him for £650,000.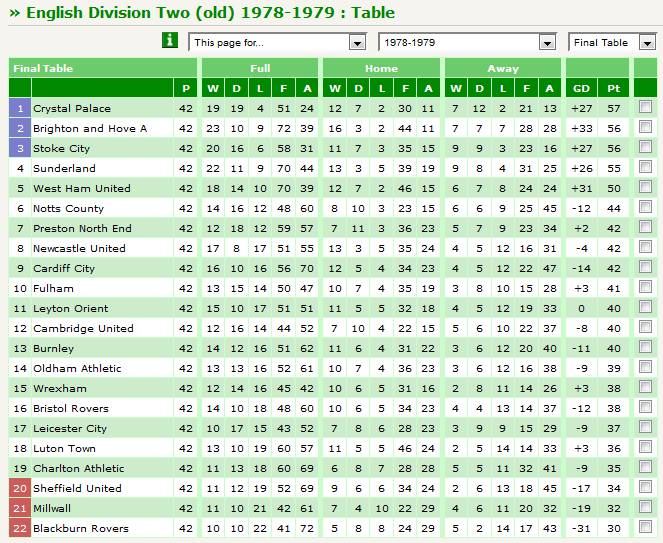 The opening game of the 1979-80 season saw Palace travel to Manchester City, who were now managed by former Eagles boss, Malcolm Allison and contained one of their FA Youth Cup winning players, Steve MacKenzie.

Allison had paid Palace £250,000 which made MacKenzie the most expensive teenager in English football at that time.

MacKenzie was just one of a host of big money signings Allison had made in a bid to return City to the success of the late 60's and early 70's, but it was to backfire alarmingly.
Palace earned a creditable
0-0
draw and proved hard to score against as they conceded just 2 goals in their opening 6 matches.

After further draws against Southampton (
0-0
) and Middlesbro (
1-1
) they picked up their first win of the season as they thrashed Derby,
4-0
.

Derby contained experienced players such as Roy McFarland, Dave Webb, Gordon Hill Gerry Daly and Bruce Rioch, but Palace put them to the sword with goals from Nicholas, Swindlehurst and a brace from new signing, Flanagan.
In the League Cup they thrashed Stockport,
7-0
with goals from Murphy, Francis, Flanagan (2), Walsh (2) and Hilaire.

The result flattered Palace as Stockport's keeper had been injured and they'd used their sub.
After a
1-1
draw at Wolves, they then won their next 3 matches to put them top of the table.

Aston Villa (
2-0
), Stoke City (
2-1
) and Ipswich (
4-1
) were all swept aside, and for the one and only time in their history, Crystal Palace sat on top of the English First Division, albeit on goal difference, but top nonetheless.

They were also unbeaten and one of just 2 clubs who could make that claim at that stage of the season (4th Division Walsall being the other).
The Ipswich performance was certainly one to remember.

Ipswich, FA Cup winners in 1978 and a team who were to come within a whisker of winning the league in 1981.

They were packed full of internationals - Mariner, Osman, Mills, Butcher (England), Brazil, Wark, Burley (Scotland) and of course, Thijssen and Muhren (Netherlands).

Palace were ruthless.

Swindlehurst scored his 4th of the season, Francis, his first for the club and even a rare goal from full-back, Paul Hinshelwood.

But it was the goal from the captain which brought the place to their feet.

A cross from the left by Flanagan found Jim Cannon in the box and he thumped it home.

4-1 against, what was to become, one of the best sides in Europe, and that added benefit of sitting on top of the pile.
Such was the excitement around the club that over 45,000 packed into Selhurst Park for the visit of Tottenham.

Ian Walsh opened his account for the season, but the
1-1
draw saw Palace drop to 3rd as United and Forest moved above them.

Palace fans weren't to realise at the time, but the Ipswich result marked a point where it wouldn't get any better.
The first defeat of the season came at The Dell against Southampton.

Full back, Paul Hinshelwood scored again, but a hat-trick from Phil Boyer helped Southampton to a
4-1
win.

Worse was to follow as they went to Goodison Park and were beaten
1-3
by Everton.

They managed to stop the rot with draws against Bristol City and Bolton, although as both clubs eventually were relegated, Palace should've been expecting more.

Goals from Swindlehurst had dried up and Flanagan had only scored in 2 games.
But November began with back-to-back home wins against Man City and Arsenal was then followed by a very creditable
1-1
draw at Old Trafford against League leaders, Man Utd.

Swindlehurst scored in all three matches and Palace were 3rd just a point off the leaders, Liverpool.

But Palace managed just 1 goal in the next 5 games, although that was another highlight as Nottingham Forest, League champions in 1978 and current European Cup holders, came to Selhurst Park and Ian Walsh grabbed the only goal of the game.

The goal was synonymous with much of Palace's play that season.

Hilaire bursts through on the counter attack, finds Walsh on the right, he cuts inside and beats Shilton on the near post.

A rare error from Shilton, but few could dispute the energy in the home side's football.
For many fans, the trip to Anfield on 15th December was significant.

Liverpool were the reigning League champions and top of the table again, albeit only 3pts ahead of Palace.

Palace held them until just before the break when Jimmy Case put the home side ahead.

Just after half-time, Kenny Dalglish doubled the lead and then Terry McDermott made it
3-0
.

Many Palace refer back to this game as a turning point, in that Palace seemed completely deflated after this and never recovered.
Having lost
0-3
to the leaders, they then went down by the same score to 2nd-from-bottom, Brighton.

Brighton had come up with Palace the previous season, yet the two had experienced completely different fortunes, although the highlight for Brighton was ending Forest's 42-game unbeaten run.

Palace were unfortunate to have met Brighton at the time of a rare rich vein of form but the defeat was one of 3 in a row, and when they were held at home by Norwich on New Year's Day, Palace were now on a run of 1 win in their last 8.

During that run their unbeaten home record went when Middlesbrough won
2-1
during the Christmas period.

Palace had now dropped to 11th place.
The FA Cup represented a tricky one for Palace, as they were now a First Division side and there to be shot at.

They were up against Second Division Swansea City, and the two hadn't met for 15 years.

They tried to make up that time by playing three times as The Swans won
2-1
in a 2nd Replay at Selhurst Park.
Ian Walsh scored 2 goals to beat Derby and Mike Flanagan scored the only goal of the game to beat Wolves.

That was Flanagan's first goal since October, but more alarmingly Swindlehurst had still failed to find the net and that was largely Palace's problem.

Swindlehurst's goal at Old Trafford in November was his 7th of the season and he'd then scored almost a third of his side's goals.

But that was it, he didn't find the net for the rest of the season and his team struggled.

In fact, between that United game in November and the end of February, Palace scored in just 5 of their 13 matches, and won just 3 games.

But Palace had got enough in the bank from their early season form and when Everton arrived at Selhurst Park in February they were pleased to just come away with a point as they were hovering dangerously close to the relegation places.
Two of the clubs in the relegation zone, Bristol City and Bolton, were then beaten by Palace.

The lowest crowd of the season turned up at Selhurst Park to see the visit of Bolton, who'd won just 2 games all season, neither of which were away.

Palace won
3-1
with goals from Murphy, Hilaire and the only one of the season from centre-back, Billy Gilbert.

Palace were now up to 7th and may even have begun to dream about Europe, but this was the last time they scored more than once in a game that season and only scored in 5 of their final 10 matches.

Interesting to note that 3 of their last 6 goals came from defenders, with even Kenny Sansom getting on the scoresheet at Arsenal.

Sansom only scored 3 goals in his Palace career so those who witnessed it were lucky, and it got over the memory of Francis missing a penalty too.

The penultimate game of the season was in front of the largest crowd at Selhurst as Liverpool were the visitors.

Palace held the League champions and current League leaders to a
0-0
draw.

It was the 9th draw at home for The Eagles and they could be proud that just 4 other teams conceded fewer goals at home that season.
Palace's final game of the season was at Nottingham Forest.

Forest were just back from a game in Amsterdam where they secured their 2nd successive European Cup Final place, and were still buzzing when they saw off Palace,
4-0
.

It left Palace finishing in 13th position, which was certainly not an embarrassment.

Much was in evidence which could be built upon, but what happened next shocked everyone and then club was never the same again.
Palace had been beaten just 3 times at home and only 3 other clubs, Liverpool, Man Utd and Nottingham Forest, could boast records better than that.

But it was the lack of goals which hurt them.

41 in a 42-game season was only better than Bristol City (37) and Bolton (38) and they both went down.

However, they had proved to be hard to beat.
Clive Allen
made his debut for QPR at home to Coventry in April 1979, a month short of his 18th birthday.

He scored a hat-trick on his debut and was announced loud and clear to the world.

QPR were relegated that season and in Division Two the following season, Allen hit 28 goals as Rangers narrowly missed out on coming straight back up.

For Allen, though, things were about to go big.

Several First Division clubs had been watching his progress and Arsenal manager, Terry Neill was the one who got the chequebook out and paid £1.25m to QPR, which was a record for a teenager at the time.

Arsenal had just missed out on winning the European Cup-Winners' Cup by losing in a penalty shootout to Valencia.

Allen was the hottest young property in football at that time, and Neill clearly thought he was buying for the future.
Allen took part in 3 of Arsenal's pre-season friendlies in 1980.

Terry Neill then set about replacing his ageing left back, Sammy Nelson.

The most promising young full back at the time was Palace's Kenny Sansom.

Neill put in a bid of £1m for the 21 year old, but in the end some wheeler-dealing was done, Neill offered Allen and a promising young goalkeeper, Paul Barron and in return got Sansom and £400,000.
Kenny Sansom went onto become England's most capped left back, until Ashley Cole recently went past him.

He could arguably be considered the best player to have ever played for Palace.

Did they get the money they deserved?

Who knows, but Allen and Barron were certainly promising young players.
The season began with the toughest fixture of them all in those days, a trip to the champions Liverpool.

Paul Barron started in goal for Palace and the other new boy, Clive Allen started a partnership Mike Flanagan which had the headline writers licking their lips.

Flanagan and Allen being a famous double act from war time Britain.
Kenny Dalglish and Ray Kennedy gave Liverpool a 2-0 lead at half-time and Alan Kennedy rounded off the scoring in the last 10 minutes and Liverpool had matched their
3-0
win over Palace at the same venue the previous season.

Palace then entertained Tottenham at Selhurst Park.

Spurs had also been in the transfer news in the summer, signing a new strike partnership in Garth Crooks and Steve Archibald.

Both scored to give Spurs a 2 goal lead, before Vince Hilaire got a goal back.

Hoddle then restored the visitors 2 goal lead, before Neil Smillie brought the home side back in it.

Then a bizarre incident when Crooks fouled Hilaire, who stood up and pushed the first person he saw which happened to be the referee.

Needless to say, Hilaire got sent off and Spurs then made it 4-2 before Jim Cannon got a goal back.

Spurs eventually won a classic encounter
4-3
.

Quite a baptism of fire for the new young keeper, picking the ball out of the net 7 times in just 2 matches.
You certainly got your money's worth in goals where Palace's early season form was concerned.

A Clive Allen hat-trick gave them an impressive
5-2
win over Middlesbrough as Tony Sealy and Gerry Francis also scored.

17 goals from 3 Palace matches already and you couldn't accuse them of being boring.

Then it all turned sour.
Victory over Bolton in the League Cup masked the atmosphere around the club.

Chairman Ray Bloye had done a deal with Sainsbury's to build a store at the Whitehorse Lane End of Selhurst Park.

Apparently this lead to a strain in the relationship between chairman and manager.

Then Palace were involved in controversy on the pitch when they travelled to Highfield Road to meet Coventry City.

Clive Allen took a free-kick from outside the area and it hit the stanchion inside the goal and came straight back out again.

The referee consulted his linesman and they both agreed the ball had hit the post and bar and bounced out, but replays clearly showed the ball was inside the goal.

Palace lost
1-3
and that game was the 2nd of a run of 7 straight defeats.

They only scored in two of those games as well.
14th October 1980, three days after a
0-1
defeat at Sunderland leaving them rock bottom of the First Division having lost every game except the Middlesbrough win, a bombshell was dropped over the club.

Terry Venables left.
There are rumours of the chairman approaching other managers with a view to replacing Venables, but many fans still feel let down by him.

He had built this team after Malcolm Allison left and they truly believed they could build on their first season back in the top flight.

Now they were bottom of the table and without their charismatic and talismanic figurehead.

Oddly, Venables then took up the manager's position at QPR, who were languishing 12th in Division Two which didn't endear him any further to Eagles fans.
Long-serving coach, Ernie Walley took over temporary charge of the team and they seemed immediately galvanised.

Wins over Leicester and Southampton (including a Mike Flanagan hst-trick) and a draw at Norwich gave them some much needed points, then at the beginning of November they beat Manchester United,
1-0
at home thanks to a brilliant goal from Peter Nicholas who delicately curled his shot over Gary Bailey.

They were now 3rd from bottom having picked up 7pts from a maximum 10.
Further defeats at Birmingham and Tottenham was then followed by a spirited display against Liverpool at Selhurst.

In an eventful game, Phil Thompson broke his collarbone in a collision with Ray Clemence, and Palace's keeper Paul Barron suffered mild concussion from a whack on the head.

An own goal from Avi Cohen and a penalty from Gerry Francis had threatened to win it for Palace after they'd gone behind, but Terry McDermott scored a disputed goal to leave the game level.
Into December and the return of Malcolm Allison, who'd been sacked by Manchester City.

At the same time Ron Noades was negotiating a deal to buy the club from Ray Bloye, Allison sold John Burridge, Mike Flanagan and Terry Fenwick to QPR where they joined their old boss, Venables.

There are various concerns about the money received by Palace for these players, and the fact that Venables and Allison were old mates didn't help the conspiracy theorists,
Again Palace won their first match under a new manager when they beat Norwich
4-1
at home.

Allen bagged another couple, with Murphy and Francis also scoring.

But the year ended with a defeat away to their bitterest rivals, Brighton (
2-3
) and Palace were back at the foot of the table.
January begun with a defeat in the FA Cup at Manchester City.

Although the
0-4
defeat was disappointing, City went onto to lose the Final in a replay so at least Palace had lost to the 2nd best side in the competition that year.

Of course for Allison he was beaten by a better side than the one he'd left behind at Maine Road.
Back in the League they earned draws at home to Stoke and Wolves but then lost the next 7 games.

During February, Ron Noades completed his takeover and then appointed Dario Gradi as new manager, and he became the 4th manager that season to take charge of the team.

Gerry Francis then joined the Palace exodus to Loftus Road.
February was a disastrous month as they lost all four league matches, Ipswich (2-3), Coventry (0-3), Aston Villa (1-2), Everton (2-3).
In March Peter Nicholas moved to Arsenal in a deal which saw David Price come the other way and gradually the Team of the 80's had been broken up.

That great side which won the Youth Cup was now spread around the rest of the division.

On 4th April they travelled to Old Trafford knowing defeat would see them return to Division Two.

They'd gone 14 games since their last victory and only picked up 1pt from their last 9 games.

United won
1-0
and Palace's dream of glory had come to a sorry and sudden end.
They then beat Birmingham,
3-1
in front of the lowest attendance at Selhurst since 1968, before losing again to Brighton, Arsenal and Nottingham Forest.

Palace finished bottom of the table, 16pts adrift of safety with just 19pts then a record low for the First Division.

The knife was pushed in further as it was Brighton who finished 4th from bottom and so stayed up.
It had been a roller-coaster ride and one few would ever forget.

Of the side which came up in a blaze of glory two season previous, only Gilbert, Hinshelwood, Cannon, Murphy and Hilaire remained.

Although Hilaire had put in a transfer request earlier in the season.

QPR were waiting for them in Division Two the following season as Palace finished just 4pts away from a 2nd successive relegation.

It would be 8 seasons before the Selhurst Park faithful would see top flight football again.